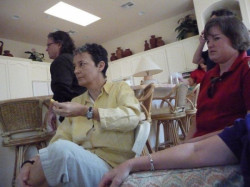 I can do nothing but admit that I'm woeful when it comes to keeping my blog updated. Lots has been happening, so let me bring you up to speed.
In March I had the pleasure of traveling to Palm Springs to meet up with my new publisher, Bold Strokes Books (in the form of Len Barot, aka, Radclyffe), her editorial staff, and quite a few of the BSB authors. We gathered for a day or two of workshops and meetings and it was fantastic fun to meet everyone, learn a lot at the exceptional workshops, and hang-out pool side talking shop and enjoying the sublime weather. There were many spirited conversations on the weighty issues of the day, one of which involved the varying definitions of what constitutes having sex. My opinion is that you know it when you feel it, but others had much more specific qualifications. Bill Clinton would have approved.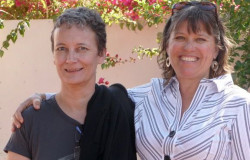 The gathering was then opened up to readers for a book festival, and it was wonderful to meet so many women who love reading as much as I do. A few recognized me from my previous novel, Sometimes Quickly, and that was a thrill.
The BSB authors were friendly, the company organized and professional, the woman at the helm a real leader. It feels very good indeed to be associated with a steady publisher in this rocky time in the industry. I have great hope that Veritas, now schedule for publication in November, 2009, will be a success.
On March 21st I read from Veritas at Women and Children First Bookstore, along with four other BSB authors - Nell Stark, Cathy Rowlands, Jennifer Harris, and Rachel Spangler. The evening was a blast, perhaps especially due to the enthusiasm of some dedicated BSB readers in the audience. Carleen Spry filmed the entire reading and Watty Boss took many good photographs. Thanks to you both for recording the night for posterity.
I learned a week or so ago that I have been accepted by the Ragdale Foundation for a writing residency at their art colony in Lake Forest, IL. I'll be attending in November of this year, spending a month working on my next book for BSB, tentatively titled Shadow in the Dark. The plan is that I'll have so much of the book written by November 1st that I'll be able to finish it while I'm at Ragdale and do my first edits. Lately I've found many of my writing plans frustratingly delayed by the demands of my real estate practice - a line of work that is so erratic and unstructured that it is hard to get into good writing habits. That sounds like a bit of an excuse, doesn't it? Well, I'll just have to find a way. After all, T.S. Elliot worked in a boring bank all day and managed to write every night. My excuse is a weak one.
Upcoming for me is the Saints and Sinners Literary Festival, where I'll once again meet up with my BSB compatriots as well as many other writers I've met at these events around the country. I'll be reading from Veritas and taking some really great Master classes and workshops. This will be my second time at S&S, and since it's in New Orleans every year, it won't be my last.