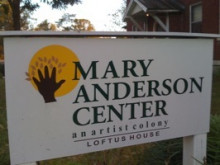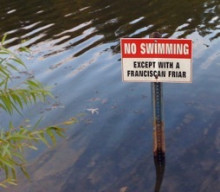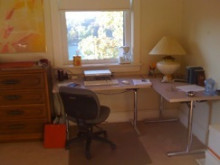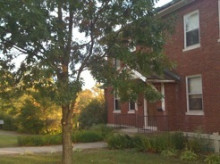 I arrived yesterday at the Mary Anderson Center for the Arts, where I'll be spending the ENTIRE month of October. This is such a luxury. I can only marvel at the fact that I've managed to craft the kind of life that allows me to do this, though I think no small portion of that is due to the fact that I'm a real estate agent and I'm just not overly busy right now.
In any event, I'll be here for the month, trying to finish my second novel. Here is in the very southern tip of Indiana, about 15 minutes from Louisville. The MAC is on land owned by a Franciscan Friary and Retreat Center, but it is completely separate from it. I have a room looking out over acres of beautiful wooded land. There are miles of hiking trails all around and a picturesque lake as well. It's unbelievably quiet, and the night is pitch, pitch black. Kind of creepy to a city girl. I'm the only artist or writer here, so the quiet is fairly complete. No communing with others at the end of the writing day, which I had been looking forward to. Another writer is coming next week, so I'll try to remember how to interact with others once he shows up.
My room has a comfy bed, nice big windows, a small couch, and a generous, L-shaped desk. I got everything set up by last night and even edited a little bit. Today I went for an hour long hike and wrote 1,500 words. I'm going to shoot for at least 2,000 a day, but that all depends on what I'm writing. Some scenes are easy, and some are dreadful, painful, slow and agonizing. If I come out of here after a month with a good first draft and stronger legs, I'll have achieved a lot. I know I'll be more relaxed. I can feel that already.