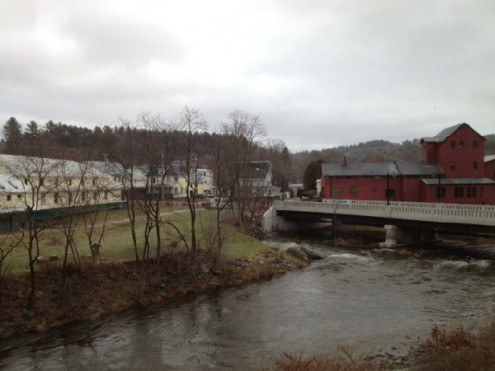 While I'm here at the Vermont Studio Center for the Arts, I'm taking part in the Author Blog Hop 2012. Baxter Clare, a writer I've long admired, tagged me, and now I'll answer the same questions about writing that she did last week. Thanks, Baxter!

What is the working title of your book?
I'm currently at work on my fifth novel.
Case Files
is very much a working title, just something to name the computer file holding all the bits and pieces of my work in progress. I am admittedly horrible at coming up with good titles, and inevitably become panicked about it as I near the end of the book. Then something tumbles into my head as I'm doing dishes or putting gas in the car.
What genre does your book fall under?
Lesbian mystery.
What is the one sentence synopsis of your book?
Josie Harper, a novice private investigator, tries to clear the name of a woman acquitted of the murder of her wife.
What is the longer synopsis of the book?
After an embarrassing fall from grace with the Chicago Police Department, Josie Harper gets her private investigator's license and sets up shop. She's still unpacking her office supplies when her first case walks through the door. Publisher Lauren Wade has just been acquitted of the murder of Nikki Moore, her lover of five years, in a highly publicized trial. A group of Lauren and Kelly's friends hire Josie to find the real killer and remove continued doubt as to Lauren's innocence. Josie knows this is a chance to not only redeem Lauren, but herself as well.
Josie's clients are funding the investigation without Lauren's knowledge. Josie soon discovers that Lauren has refused to aid in her own defense from the moment of her arrest. As Josie struggles to uncover leads pointing to another killer, she also uncovers the reasons for Lauren's mysterious self-sabotaging behavior and finds herself drawn closely to her.
Where did the idea come from for the book?
I read somewhere about two people who met on the day one was acquitted of the murder of his wife. The story grew from that little nugget, as most stories do.

Which actors would you chose to play your characters in a movie?
I never have a perfectly clear idea of what my characters look like, just as I don't when I'm reading a book. I do know that I envision Josie as attractive but not distractingly beautiful. Rashida Jones comes to mind. Lauren should be more smoldering, though completely unaware of her beauty. Perhaps Jennifer Beals (who undoubtedly is quite aware of how beautiful she is).
Will your book be self-published or represented by an agency?
My publisher, Bold Strokes Books, has an option on the book, and I'm hoping they will offer me a contract. I'm a good ways away from submitting the manuscript.
How long did it take you to write the first draft?
I'm currently about a quarter into the manuscript and it's been slow going so far. I had some medical issues during most of 2012 that kept me from writing, and I'm trying to get back into the swing of it. I don't have a projected completion date. As I write this I'm at the Vermont Studio Center for the Arts for a two week writing residency. I hope to crank out a lot of words during my stay here.
Who or what inspired you to write the book?
See #5 aboveJ The originating idea felt like a solid foundation upon which to build a multi-layered story. My intention is to write a more complex story with a more complex main character with each book I write.
What else about the book might pique the readers' interest?
My main character, Josie Harper, is about a year out from a hospitalization for Bipolar I disorder. She's stable, but of course that could change at any time. Adding to that challenge is Josie's father, a police detective mortified by Josie's illness, and her mother, an alcoholic with no boundaries whatsoever. Somehow Josie will not only do her job, but also find love along the way.